Complex supplies of industrial automation
We can help you prepare and implement investment and modernization projects. We provide consultancy regarding the preparation of a suitable technical and economical solution, stages and schedule of the project. Our experienced engineers can help you minimize the risks related to investments into new technology as well as with modernization of the current technology. We follow the quality engineering methods: the method of Good Engineering Practice (GEP).
Analysis and specification
We can analyse your production and offer the best solution from both technical and economic points of view. On the basis of the analysis, a description of the problem is drawn up and work is started.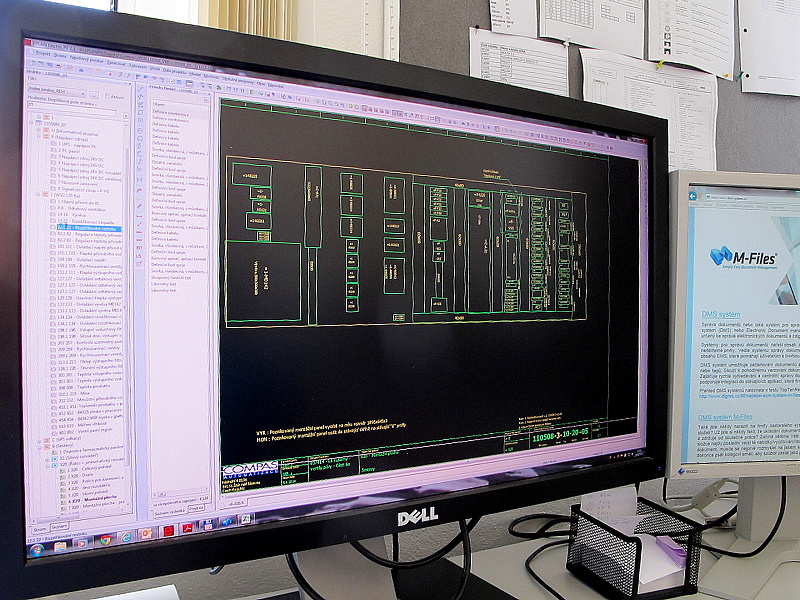 Projection
We respect the specific requirements of the particular industry. The project documents may be prepared in accordance with your requirements or on the basis of executed analyses of automation of the technological equipment or machinery. Projects are prepared in compliance with the valid EN standards. We use CAD systems ePLAN and AutoCAD for project preparation. The finished documents are saved in the DMS system (M-files).
Automation projects are prepared as complete, including:
Power supply part
Control and information system part
Instrumentation part
Measurement and regulation
Complete project documentation is a matter of course.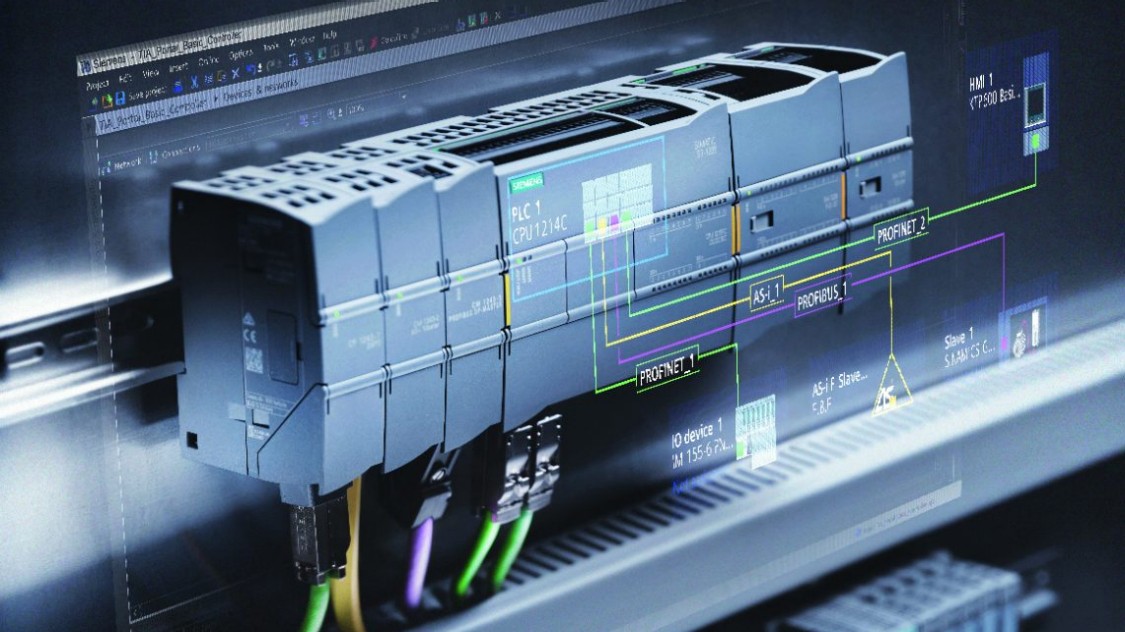 Control systems
We develop control system applications for various industries. We deploy SIEMENS control systems, drives and other elements of the TIA components. For discrete production, we use Simatic S7 PLC; for control over larger technological processes we apply process control system Simatic PCS7. As HMI, we use operating panels and HMI WinCC or InTouch visualizations.
As the second platform we propose applications of Beckhoff control systems becoming more and more popular.
We apply control systems Siemens and Beckhoff
Simatic S7 1500, 1200, 400, 300, 200 and Logo
Process control system Simatic PCS7
Simotion for control over technology with drives
SIEMENS operator panels OP, TP, KP of the Comfort and Basic series
HMI WinCC, TIA portal HMI
SCADA InTouch and WW System Platform
Beckhoff control systems with application SW developed with TwinCAT2 and TwinCAT3
Services
Consultancy and technical assistance for clients, we advise perspective solutions with regard to extendibility and maintenance
Design of suitable system architecture and in industrial networks and I/O
Design of the automation with drives
Configuration of DCS systems, redundant systems
Design of "Fail Safe" systems (safety according to IEC 61508)
Proposal of PLC and HMI visualization (SCADA, panels)
Application of flexible recipe systems
Control over batch processes according to ISA S88 (Batch)
 Application Software Development
Functional specifications, design specifications
Control SW development
FAT, SAT tests
Individual and complex tests, trial operation
Training operators and users
Long-term support, service and spare parts arrangement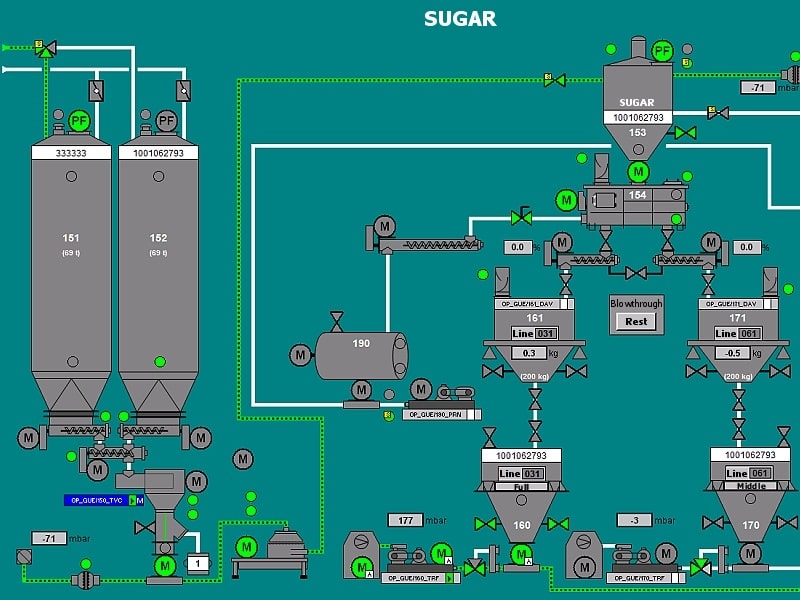 Visualization of HMI and own library
Special Offer – Faceplate Library for WinCC
Our team of experts has designed the FACEPLATE object library for HMI WinCC that increase the capacity and productivity of HMI programmers as well as control applications. FACEPLATEs improve the quality of HMI and reduce the cost of the application. FACEPLATEs simplify and unify HMI interface by grouping the available control/status of elements for the equipment (sensor, valve…) and allow standardization and better quality of process control by the operator.
More information see at FACELATEs.
Measurement and control
We offer many years of control experience with both standard PID controllers and applications with predictive controllers. In order to regulate, there must be reliable measurement and therefore feedback. We can help you with the selection of high quality and functional measuring devices that we have tested over 30 years of existence.
Peripheries
We design and supply sensors and actuators
Cameras, control system peripherals for industrial networks (e.g. I/O from various manufacturers)
Material marking systems, BC, RFID
Systems for tracking of material movement, navigation of AGV trucks
Computer vision systems for robot navigation or quality control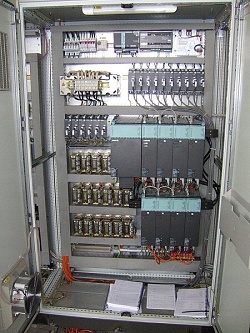 Drives
Application of Electrical Drives
We offer the solutions for all tasks related to the application of electrical drives in production mechanization and automation. We provide integrated services, starting with the design and ending with the delivery and service. Our specialists have experience with the application of electrical drives both for simple and complicated tasks. You can check some of our applications under Case Studies.
Regulated Electrical Drives
We mainly focus on the regulated drive series by SIEMENS. We provide integrated services: from the design to the delivery and service of the application with the electrical drives. Our specialists also have experience with large international projects where dozens of regulated drives were applied. Some of our applications are pilot in the industry, such as in the field of fast drive control by the Simotion/Sinamics systems. We can integrate drive control with the superior PLC SIEMENS control systems.
Activities in the Field of Electrical Drives
For electrical drives related tasks, we offer optimal parametrization of drives; for more demanding tasks (positioning, speed control), we develop SW for the drive control systems by SIEMENS.
We offer the following activity for applications:
Elaboration of the task analysis, recommendation of a suitable drive and the method of control
Designing all related components of the power part of the drive
Designing communication between the drives and the control system
Elaboration of the drive project
Development of the application software implemented in the drives (regulative, synchronizing, algorithm…)
Delivery of the individual designed components, including assembly and commissioning

Installation and connection of the drive and all related components
Check and basic tune-up of the drives (motor identification, current and speed controller)
Parametrization and setting the control and technological values of the drive (torque limitation, ramps, temperature parameters, overload, communication…)
Tests of the drive from a local workplace – response of the drive to the commands, application software tests
Complete diagnostics and online monitoring of the behaviour of the drive, both locally and remotely

Service for the regulated drives by SIEMENS
 Suitable areas for the installation of regulated drives and references
Rotary machines (pump, ventilators, conveyors, coiling/uncoiling machines etc.)
On-the-fly material cutting (monitoring regulation, cut-to-length application for shears, saws, dividing machines for rolling mills)
Lines with force, torque and speed regulation of drives in cascades, in the Master/Slave mode (extrusion lines – cable lines, rubber lines, extruders).
Load-sharing regulation (work of several drives sharing one load)
Positioning mechanisms using the "standalone" drive (manipulators, feeding mechanisms etc.)
Positioning and speed synchronization of two and more drives (axes)
Solutions for equipment automation by the SIEMENS Simotion drive control systems, such as for the electric screw press and glass-processing machine for making bottles.
Diagnostic systems
Diagnostic systems are used to detect errors in industrial processes, production lines and equipment. They are used to tune processes and equipment, as a window into production for monitoring and optimization. They are particularly indispensable in finding random errors in processes or mechanical equipment and production lines.
We supply world-leading software from IBA, which is used to monitor dozens of process signals, I/O control systems. At the same time, it can also take HMI and video recordings from up to 64 cameras. The measured data is continuously stored in measurement files.
Features of the IBA diagnostic system
Synchronous recording of video images and measurement data
Continuous and event-triggered recording
Recording of HMI and camera images
Capture from up to 64 cameras (analogue, IP, GigE or virtual) and online visualisation
View and analyze signal trends and video sequences
Live video display as a replacement for CCTV system
Possible integration of third-party software for image analysis, supplementing the original camera footage with additional data and back-synchronous recording of the resulting image into an archive
Integrated communication interface for data acquisition from PLCs of leading manufacturers (AB, ABB, B&R, BECKHOFF, SIEMENS, …)
Convenient analysis tool IbaAnalyzer free of charge
Recording from HMI (IbaCapture) + recording from camera (IbaCapture) + recording from IbaVision (image analysis, measurement of the dimensions of the shaft, addition of data from PDA)