Profile Compas Automation download
COMPAS Automation is a Czech engineering and supply company that offers smart industrial automation solutions based on SIEMENS technology and MES production information systems based on the latest control and IT technologies. Download profiles:
COMES v.3 prospectus
The COMES production information system contains standard MES functions according to the MESA standard. The advantages of the offered COMES manufacturing information system include a lean IT base (web-based technologies reduce administration costs) and the possibility of implementation in various industries, including industries with high quality requirements such as the automotive industry or regulated industries such as food and pharmaceuticals.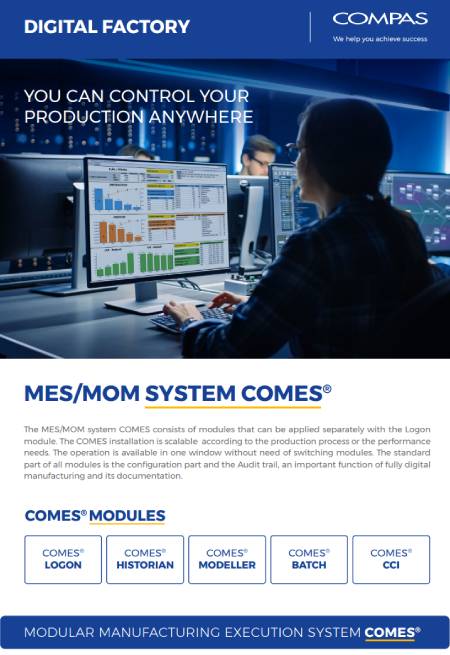 The COMES production information system contains the following groups of functions:
short-term production capacity planning (weekly, daily plans)
overview visualisation and operational control of production
workforce management in production
recipes and their management
materials and their management (operational inventory), bills of materials
product labelling (barcode, 2D, RFID)
traceability
collection, display, analysis and archiving of technological data
support for optimization of technological processes
support for quality optimisation
collection of production data (pieces, downtime, defects, …)
production balance (shift logs, material and energy consumption), KPIs (OEE)
production documentation, production protocols
communication (to IT systems (ERP, MIS) and to technology (control systems, marking systems, …)
maintenance management